Quinns' Carpets
Carpet or Vinyl Supply & Fitting Service
Carpet Stretching and Restretching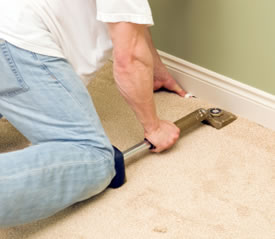 Over time with constant foot traffic carpets can begin to move and loosen. This can appear as bumps or wrinkles on the surface and looks unsightly. However the answer is not necessarily new flooring. Sometimes what's really needed is something as simple as stretching.
At Quinns' Carpets our carpet fitters are highly skilled and experienced. In our expert hands wrinkled carpet can be stretched back into a more desirable shape, firm and taut. This skilled technique can save you the unnecessary cost of carpet replacement and rejuvenate the appearance of your flooring.
Remember, Quinns' Carpets are always happy to offer you free, no obligation advice. Contact us now.
Quinns' Carpets - Stretching Carpets But Never Our Promises