Quinns' Carpets
Carpet or Vinyl Supply & Fitting Service
Free Carpet & Vinyl Measuring Wolverhampton, West Midlands & South Staffordshire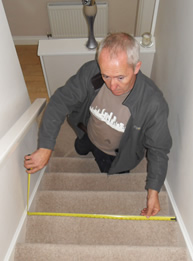 When fitting new carpet / vinyl / lino in your home an obvious question that needs answering is how much do you need. Whilst a simple enough question, the wrong answer can have costly ramifications.
Order too much and you're paying far more than you need to. It's wasteful financially and of course has an environmental impact.
Order too little and your flooring won't fit. You're then left with little choice but to order more again and the end result is truly costly.
The best way to save time, energy and money is to get the measurements right first time and to order exactly the amount you need. That's where our free measuring service proves invaluable.
We'll accurately measure your rooms and tell you exactly what you need - avoiding costly over or under ordering. We'll even advise you exactly what you need to get the job done properly.
Please remember we're also happy to bring the showroom to you, helping you make informed choices about your flooring requirements, all free of charge and without obligation.
To organise your free survey, simply contact us. Insurance quotes are welcome.